A Totally New Kind Of Event Rental For Kids!
We've invested months of development with a leading Canadian manufacturer to bring you the best children's event rental in Canada – Sprog & Sprocket's Portable Playground!
We genuinely believe that parties and events are an opportunity for children to play, make friends, and create memories that will last for years to come.
Whether it's a child's party, or a larger event that will be hosting little ones alongside the adults, our Portable Playgrounds provide hours of uninterrupted play in a fun and safe environment. Children unleash their imaginations while parents sit back, relax and enjoy the event too!
With way more ways to play than a typical bounce house, our Portable Playgrounds are the perfect event rental to keep energetic children playing for hours!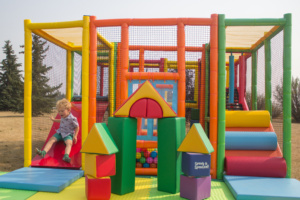 Why choose a Portable Playground for your next event?
Accommodates 15 – 20 children at any one time
Perfect for ages 18 months – 9 years
Set-up in approximately one hour!
Finally an event rental that can work for children with slight to moderate physical limitations.
A suitable alternative to busy indoor playgrounds for children with sensory processing disorders or children on the autism spectrum. Talk to us so we can help you assess the suitability for your event.
Less chance of having  to cancel or postpone your event  rental due to bad weather (our playgrounds have a higher threshold for inclement weather than inflatables & it is easier to accommodate our equipment indoors)
A low ceiling height and a moderate footprint means that we can set up in a ton of indoor venues. In some cases even inside your home or garage! *Installation fee may apply for some venues
No electricity required & No noisy blowers – the only noise you'll hear is the sound of fun and laughter!
Two Rental Options That Will Make Your Event Unforgettable!
Sharing is caring – but not when it comes to germs – that's why we clean our ball pit balls between every party!
We call it the Sprog & Sprocket #WeDreamOfHygiene Promise!
The Sprog & Sprocket Portable Playground adds that WOW factor to your…
birthdays, weddings, family reunions, christenings, baptisms, public functions, corporate events and business promotions!
 To create amazing memories at your next party or kid-friendly event call us on 403 719 7776 or use the reservation form below.
If you're planning a public or corporate event, please contact us for rates.
Questions? Check our FAQ's page or get in touch! Would you like to see more pictures? Just click on our Facebook or Instagram buttons at the page footer – more photos added daily!
_________________________________________________________________________