Stuck On How To Entertain The Kid's At Your Next Event? Have a Soft Play Party
We entertain children with soft play spaces that are specifically geared towards their natural sense of curiosity and adventure.
We create amazing soft play spaces specifically for babies, toddlers, and preschoolers!
As parents ourselves, we understand that a young one's sense of exploration is often matched only by their indifference to safety limits.
So while our colourful and fun soft play spaces inspire imaginations and entertain your little ones for hours, they also create a clean and safe area for them to play – now the adults can enjoy themselves too!
When you have a soft play space at your event you won't just entertain the kids. There are so many benefits to our soft play spaces:
Encourage children to interact and cooperate with each other
Foster social development
Develop gross motor skills and physical literacy
Inspire imaginative play
Provide a fun & safe place for exercise
Encourage children to use problem-solving skills
Improve confidence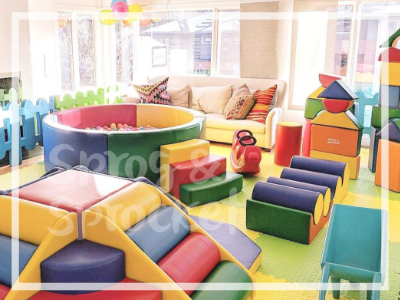 Soft Play Party Rental Packages and Prices
All of our soft play packages include:
Up to 4 hours of play, a shoe rack, fencing where necessary, extra thick foam safety flooring, installation & tear-down!
We have 3 standard packages so there is always something to challenge your child's growing abilities
Climb & Slide Pyramid
Wavy Roller
15 Piece Little Builders Block Set
Wheelbarrow and Balls
Rocking Animal
Animal Hopper
Rainbow Bridge
Climb & Slide Pyramid
Wavy Roller
23 Piece Little Builders Block Set
Wheelbarrow & Balls
Rocking Animal
 Animal Hopper
Balance Beam Climb & Slide
Rainbow Bridge
Wavy Roller
23 piece Creative Shapes Block Set
Wheelbarrow & Balls
Morphing Mirror
Dino See Saw
2 x Animal Hoppers
Did you know we also have pick-up packages available to rent!
A perfect entertainment option for children 3 and under
Suitable for small spaces
Budget friendly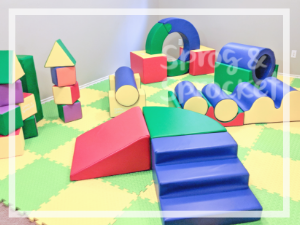 Don't see quite what you're looking for? We love working with clients to create tailored soft play spaces that match their party & event needs perfectly! Call or email us to see what we can build for you!
Sharing is caring – but not when it comes to germs – that's why we clean our ball pit balls between every party! We call it the Sprog & Sprocket #WeDreamOfHygiene Promise!
4 hours not enough time to play? We understand, we don't like when the party ends either.
We are happy to accommodate longer rental times.  Please contact us here or call us on 403 719 7776 so that we can discuss your individual requirements.
If you're planning a public or corporate event, please contact us for rates.
Perfect for birthdays, weddings, corporate family days, playgroups, and anywhere else you need to entertain those energetic little ones and keep them out of trouble!
…Similar to our Portable Playgrounds, our toddler soft play spaces are suitable for indoor or outdoor use (weather dependent, of course!) and we take care of all the set up and collection. We have lots of flexibility with how we can configure the set up which lets us take advantage of spaces in many shapes and sizes.
Questions? No problem! Check our F.A.Q's page or get in touch!